Colours of a Journey has been included in the beautiful book "Letters to Europe: Refugee Women write"
We are glad to announce that the presentation of the book "Letters to Europe: Refugee Women Write" took place in Brussels on September 21, 2017!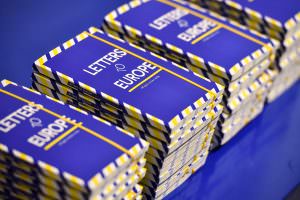 One of its facilitators has written about his experience with the book and the inclusion of Colours of a Journey project. Here you can check the text about the event:
When we talk about refugees today, the images that are conjured up are of young, Middle-Eastern or African men, men which should either be pitied or feared, depending on your side of the political spectrum. And although the majority of refugees are male, that doesn't mean all of them are – about a third of the refugees coming to Europe in 2016 were female. These women have specific needs when it comes to their safety when they flee their countries, on their way here, and once they have arrived in Europe, but these needs are often overlooked. An important step towards addressing those needs is letting refugee women speak out about them, sharing their stories of why they fled their countries, and the experiences they had during their flight and in their new countries of residence. 
This was the idea behind 'Letters to Europe', a story project within the framework of Futurelab Europe, a programme that wants to engage European youth in active citizenship. With a small international team, we received some funding to realize our idea: a book of stories of refugee women, and a theatre play based on these stories. 
In the end, we engaged fourteen writers, as diverse as could be, but united in the fact that they had fled their home countries and are now living in Europe. Some were formally recognized as refugees, others used student scholarships or other options to leave their countries. Coming from the Middle East, the Caribbean, South-America, the Balkans or even Sudetendeuschland, these women haven fled from war and persecution based on their race, ethnicity, gender and gender expression, sexuality or religion. Some fled as children, others have only arrived in Europe a year or a couple of years ago. Some are professional writers and journalists, some are writing their stories down for the first time. Some write in English, some in their native language or the language of their new found home. 
We were happy to have their stories in written form, but when I came accross the Colours of a Journey project, I thought these images would be of great added value to our story project. Colours of a Journey is a project based on drawings of refugee children from Afghanistan,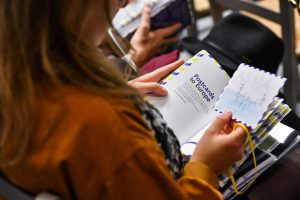 living in a refugee camp in Greece. Transform! Europe went to these camps and asked the children to draw their past, present and possible future on a piece of paper. Students of the MA Euroculture, a programme I was working for at the time, organised an exhibition of these drawings, and I quickly realized that these drawings functioned as refugee stories themselves. A picture says more than a thousands words, after all! And as we already had 'Letters to Europe' as our title, it was only logical to include the drawings as 'Postcards to Europe'
The combined voices of refugee women and the children's drawings paint a picture of the diversity of refugees and refugee women's experiences. Based on these stories, we made a theatre play, engaging two of the writers, who happened to be the youngest and oldest writers, as actors: Enana (22), a Syrian woman living in Berlin and fled not only war but also persecution based on her sexuality; and Gudrun (79), who was banished from Sudetendeutschland as a child and has been living in Germany ever since. Together with director  Konstantin Buchholz, they acted in the play 'refugee (woman) :)', which premiered in Berlin and Brussels. Inviting some of the other writers to take part in the Q&A, it was a great success, and we saw audiences were moved by the stories. It led to interest in other organisations or festivals to invite us to have the play in their cities, which is great! Right now, we have scheduled two additional performances in Berlin, one in Erfurt and one in Oslo, and more plays might be coming up. We're happy to see that the voices we set out to collect seem to find their ways to the ears of European audiences and policy makers!
Text written by Albert Meijer.
If you want to know more about the book, here you can find more information: https://brussels-express.eu/letters-europe-refugee-women-write/